2022 Hyundai Kona Model Review in Sherman, TX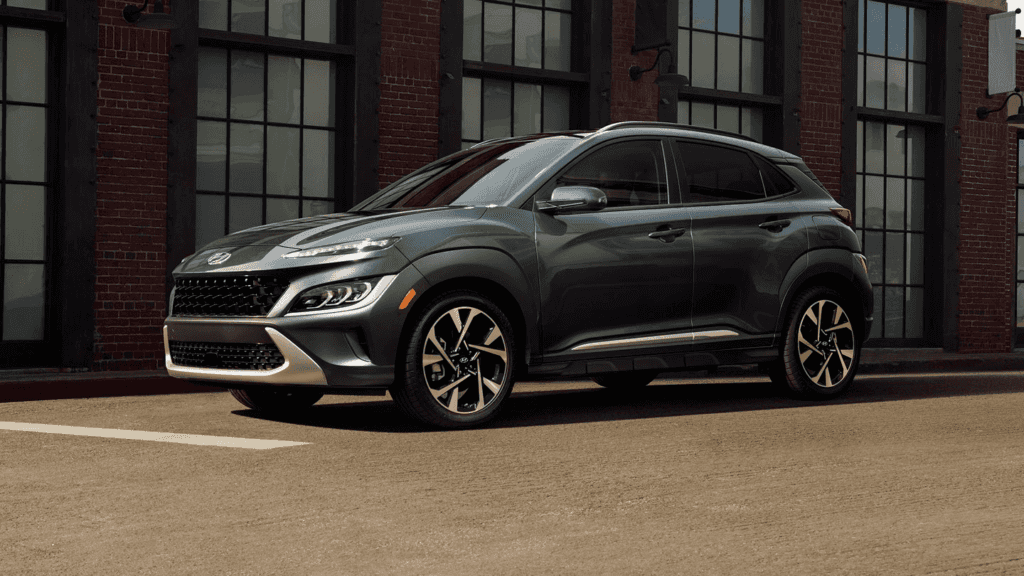 Even though the 2022 Hyundai Kona comes in a small package, you can expect plenty of big things from this SUV. Check out the stunning features and capabilities of the Hyundai Kona with Texoma Hyundai to see what you can expect from this upcoming vehicle. Then, visit our dealership to get your very own Hyundai Kona and even set up a test drive. See how extraordinary things truly come in small packages when you check out the Hyundai Kona.
Shop Kona
2022 Hyundai Kona Performance in Sherman, TX
The Hyundai Kona comes with an optional AWD, so you can have plenty of control even when you take detours on the Sherman, TX back roads. Underneath the hood, you'll find a 1.6L Inline 4-cylinder engine that's capable of producing 195 horsepower and 195 lb-ft of torque. You'll have the choice between Intelligent Variable Automatic Transmission (IVT) or a 7-speed EcoShift® Dual Clutch Transmission. The Hyundai Kona doesn't give up fuel economy for excellent performance, sporting an impressive 35 mpg on the highway.
See what the Hyundai Kona can do yourself when you set up a test drive at Texoma Hyundai.
2022 Hyundai Kona Interior in Sherman, TX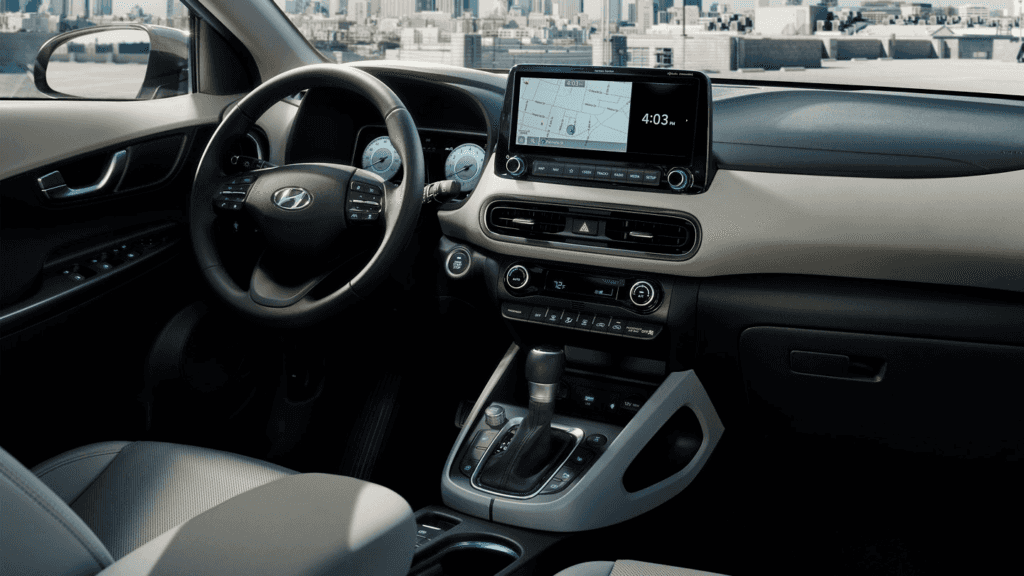 Despite its compact frame, the Hyundai Kona boasts an impressive amount of space inside its cabin. With a total interior volume of 113.3 cubic feet, passengers will have plenty of room to stretch their legs on those long Sherman, TX drives. As far as comfort and convenience features go, you'll be able to enjoy heated front seats, wireless Android Auto and Apple CarPlay connectivity, and dual front USB outlets. Plenty of connectivity features will help make streaming your favorite tunes and podcast episodes effortless.
Take a closer look inside this spacious SUV when you visit Texoma Hyundai for your test drive.
2022 Hyundai Kona Safety in Sherman, TX
How safe is the new 2022 Hyundai Kona? The Hyundai Kona comes equipped with top safety features like Forward-Collision Avoidance Assist, Rear Cross-Traffic Collision-Avoidance, and Smart Cruise Control to help you stay alert and prepared no matter what the Sherman, TX roads might throw your way. See how safe the Hyundai Kona is for yourself when you visit our dealership to explore the safety features and technology of this vehicle in more detail.
Why Choose Texoma Hyundai?
At Texoma Hyundai, we don't stop caring for you just because you drive away in one of our vehicles. Unlike other Sherman, TX dealerships, we follow up with you after your experience with us is over. We make sure we can help you with future decisions and even keeping your current vehicle running at its best for years to come.
See what customized care and service looks like from a dealership when you visit Texoma Hyundai today.
Test Drive the 2022 Hyundai Kona at Texoma Hyundai in Sherman, TX
Contact us to explore our current inventory and find your very own Hyundai Kona that you can see yourself driving for years to come. We're ready to get you behind the wheel and help answer any of your question.