2022 Hyundai Elantra Model Review in Sherman, TX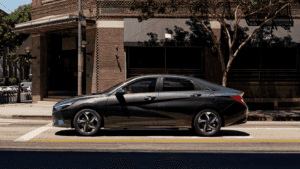 With gas prices rising, owning a fuel-efficient vehicle has become that much more important. Sedans have always been at the top of that spectrum, making them a great choice for anyone looking for efficient daily commutes. One of the latest and greatest new cars to hit the market is the 2022 Hyundai Elantra. Stylish and advanced, this new sedan has a lot to offer. Read our review below to learn all there is to know about the 2022 Hyundai Elantra.
Shop Elantra
The 2022 Hyundai Elantra's Exterior Features
While the Hyundai Elantra is classified as a sedan, it has the sharp looks of a sports car. Additionally, the starting price is surprisingly low, making the 2022 Elantra an unbelievable deal. Choose from a variety of bold color and wheel options to help make your 2022 Elantra one of a kind.
The 2022 Hyundai Elantra's Performance and Capability
Everyone loves to have options, that's why the 2022 Hyundai Elantra has several engines available for you to choose from. The standard engine is a 2.0L 4-cylinder engine that has 147 horsepower. For more oomph, a more powerful 1.6L turbo engine is available with 201 horsepower. That's acceleration you can feel! However, if fuel efficiency is your priority, there is a hybrid engine that you'll find interesting. With an EPA estimated 56 MPG on the highway and 53 MPG driving in the city, the Elantra's 1.6L hybrid engine will have you avoiding gas stations like never before.
Inside the 2022 Hyundai Elantra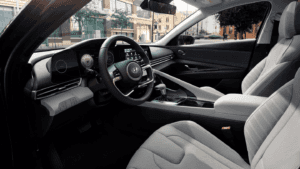 The Elantra's excellence only continues as you move into the sedan's interior. The 2022 Elantra features the largest available touchscreen in its class at 10.25 inches alongside a great deal of other technology like wireless device charging, available heated seats, push-to-start tech, and a full suite of safety features. Additionally, the 2022 Elantra is incredibly comfortable thanks to well-designed seating with an available integrated memory system so your seat is always adjusted how you like. The Elantra has just over 14 cubic feet of space for cargo in the trunk, but that space can be expanded in an instant thanks to foldable rear seats.
Shop for a 2022 Hyundai Elantra at Texoma Hyundai
If you're in the market for a cool and fuel-efficient new sedan, shop for a 2022 Hyundai Elantra at Texoma Hyundai today. We have an excellent selection of Elantra models for you to choose from, so finding the right vehicle should be easy. Do you prefer another one of our Hyundai vehicles? We have all the best new vehicles from Hyundai for sale in our inventory. Shop for a new vehicle with us online today!
Schedule Your Test Drive at Texoma Hyundai in Sherman, TX
Can't decide which Elantra trim or engine model is the best fit for your lifestyle and needs? Come test drive them all with one of our experts at Texoma Hyundai. Contact us to schedule your test drive today!
Schedule Test Drive