Hyundai Santa Fe vs. the Competition in Sherman, TX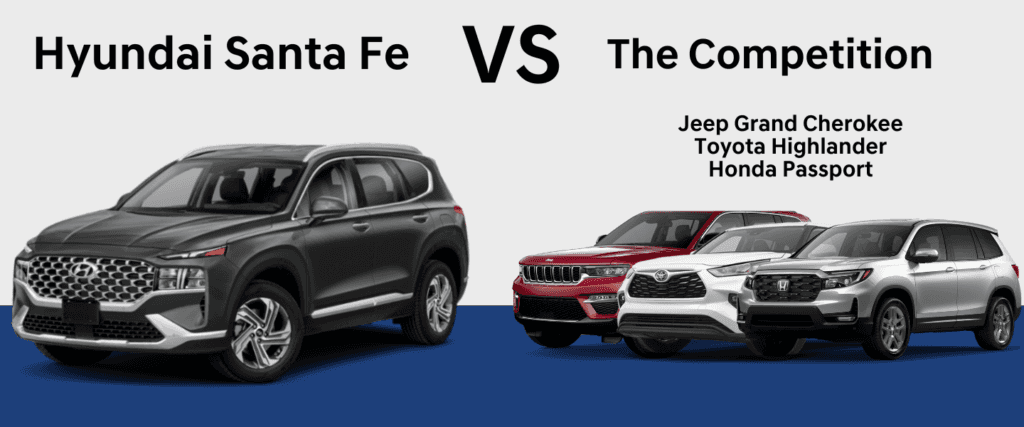 The Hyundai Santa Fe is the ultimate people-pleaser when it comes to mid-size SUVs. Its spacious interior and state-of-the-art technology gives the competition a run for its money across the board. Read on to see how the Hyundai Santa Fe holds up against its peers. When you're ready to see the champion in person, shop online or visit Texoma Hyundai in Sherman, TX, to schedule a test drive.
Shop Santa Fe
Honda Passport vs. Hyundai Santa Fe Near McKinney, TX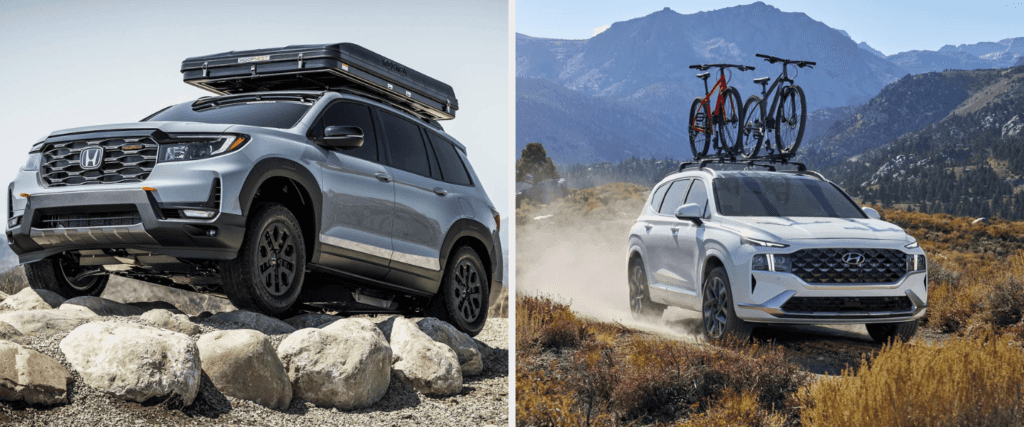 When comparing SUVs, it all comes down to features and performance. While the Honda Passport certainly has a lot to offer, the Hyundai Santa Fe is your go-to for family road trips, daily commutes, and the scenic route home. For starters, the Santa Fe earns an impressive 28 mpg compared to the Passport's 25 mpg. Plus, the Hyundai SUV offers lane keep assistance, a blind spot system, climate control, and smartphone connectivity. The Sante Fe seats up to five passengers, can tow a maximum of 2,000 pounds, and has over 72 cubic feet of cargo capacity. With better fuel economy and lots of cargo space, the Hyundai Santa Fe leaves the Honda Passport in the dust. Shop the Santa Fe at Texoma Hyundai near McKinney, TX, and Durant, OK.
Toyota Highlander vs. Hyundai Santa Fe Near Durant, OK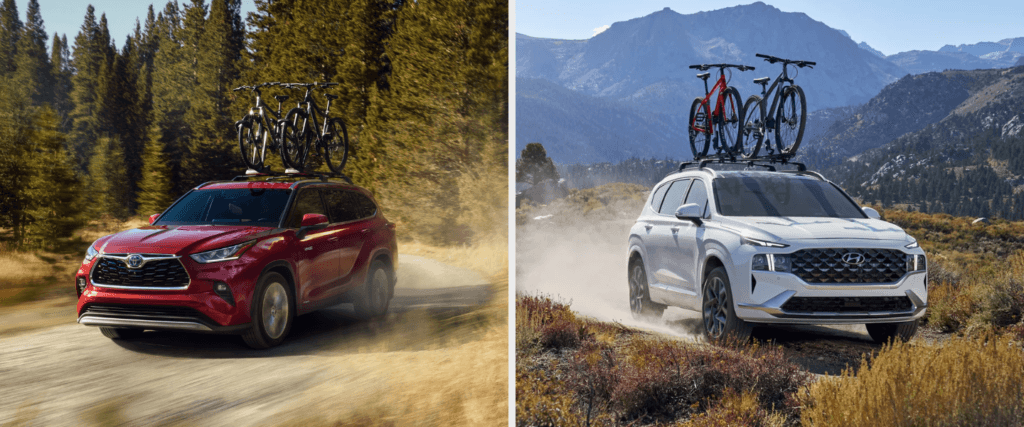 Despite the Toyota Highlander having a third row of seats, the Hyundai Santa Fe comes out on top with a larger cargo capacity, longer warranty, and more advanced safety features. With the last row of seats folded, the Highlander only offers 48 cubic feet of cargo space, much less than the Santa Fe's 72 cubic feet. If passenger comfort is a concern, the Santa Fe has an extra two inches of front legroom. Don't stress over keeping your vehicle in great condition, as Hyundai's warranty surpasses Toyota's by two years and nearly double the miles. Furthermore, the Hyundai Santa Fe isn't just all business; it has some fun too. Higher trim levels include a 10.25-inch touchscreen, navigation, Apple CarPlay and Android Auto, remote parking assistance, a Hyundai digital key, and more. See this show-stopper for yourself at Texoma Hyundai in Sherman, TX.
Jeep Grand Cherokee vs. Hyundai Santa Fe Near McKinney, TX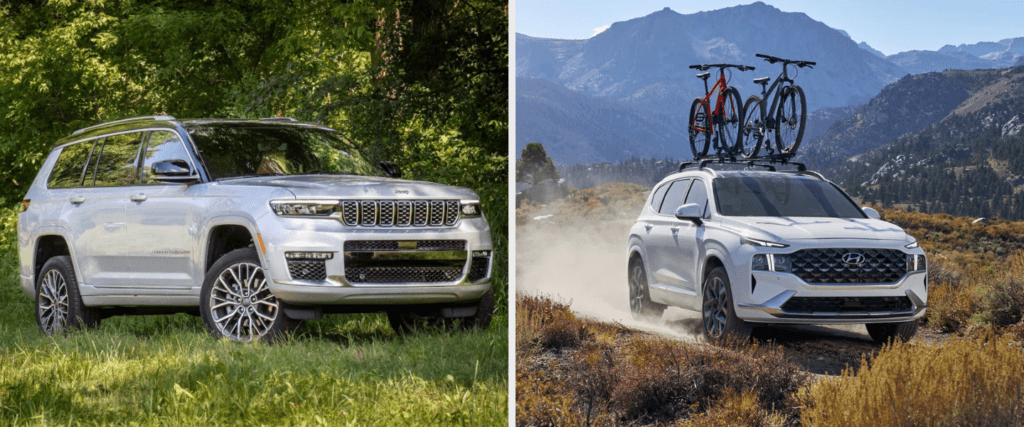 While the Hyundai Santa Fe and Jeep Grand Cherokee are similar in cargo area, towing capacity, and safety, the Grand Cherokee can't seem to keep up with the Santa Fe's fuel efficiency, infotainment, and affordability. Driving from sporting events to camping trips will surely rack up some miles. Luckily, the Hyundai Santa Fe earns a combined 24 mpg, compared to the Jeep's 21 mpg. In addition, the Santa Fe will save you money beyond the pump with a much lower starting MSRP than the Grand Cherokee. Plus, those long drives will fly by with the Santa Fe's front and rear USB ports, wireless charging capability, and large touchscreen display. Feel the difference between the Hyundai Santa Fe and the Jeep Grand Cherokee at Texoma Hyundai in Sherman, TX.
Test Drive the Hyundai Santa Fe in Sherman, TX
We've done our research on the Hyundai Santa Fe, but don't just take our word for it! Check out our inventory of Hyundai Santa Fe models online today. Then schedule a test drive at Texoma Hyundai to see this top-performer for yourself.