Hyundai Santa Cruz vs. the Competition in Sherman, TX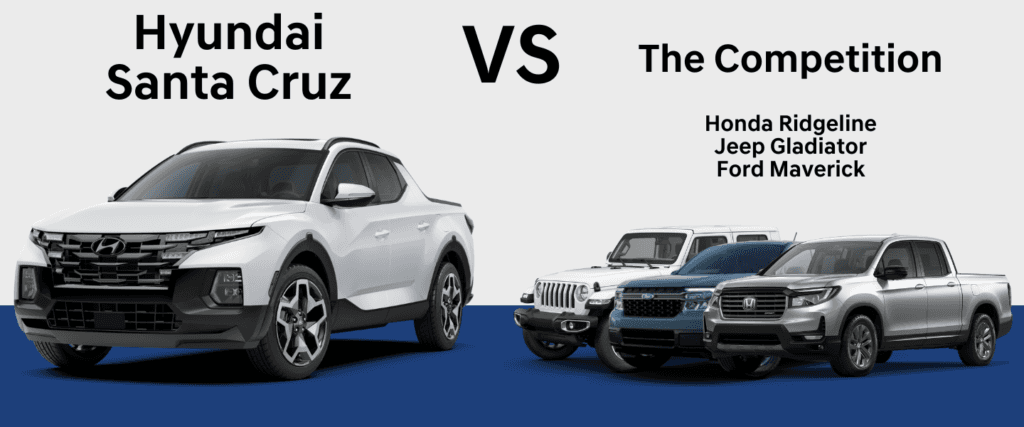 Imagine a pickup that offers a stylish interior, comfortable ride, and a versatile cargo bed with up to 5000 lbs. of towing capacity. This isn't a dream. We're talking about Hyundai Santa Cruz. The first ever Sport Adventure Vehicle.
At Texoma Hyundai, we offer a great selection of Santa Cruz in Sherman, TX. Want to know how this dynamic pickup truck compares to the competition? Continue reading to see how the Santa Cruz stacks up against the Honda Ridgeline, Jeep Gladiator, and Ford Maverick.
Then browse our online Santa Cruz inventory and schedule a test drive at Texoma Hyundai!
Shop Santa Cruz
Honda Ridgeline vs. Hyundai Santa Cruz Near Durant, OK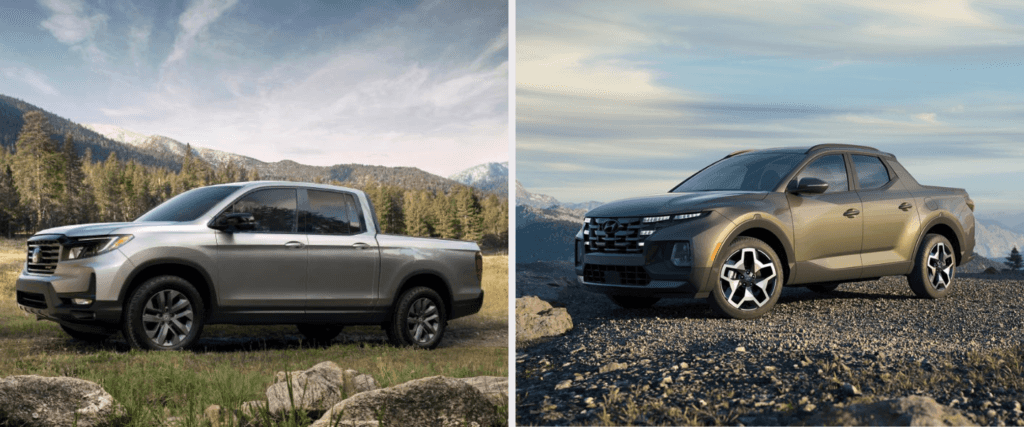 It's a no-brainer that those interested in a small pickup truck need a utility vehicle with a decent payload and towing capacity. At the same time, it's also nice to drive and easy to manage in day-to-day commute.
Compared to Honda Ridgeline, the Santa Cruz has a much more stylish exterior with its modern design and sporty look. And, although Ridgeline is slightly larger, the interior of the Santa Cruz offers a more comfortable ride, with extra front head room and leg room. Another feature we like is Santa Cruz's higher ground clearance, which makes it better equipped for off-road trekking.
All-in-all, the Santa Cruz offers more modern technology, a sportier ride, better fuel economy, and greater payload capacity.
Ford Maverick vs. Hyundai Santa Cruz Near Sherman, TX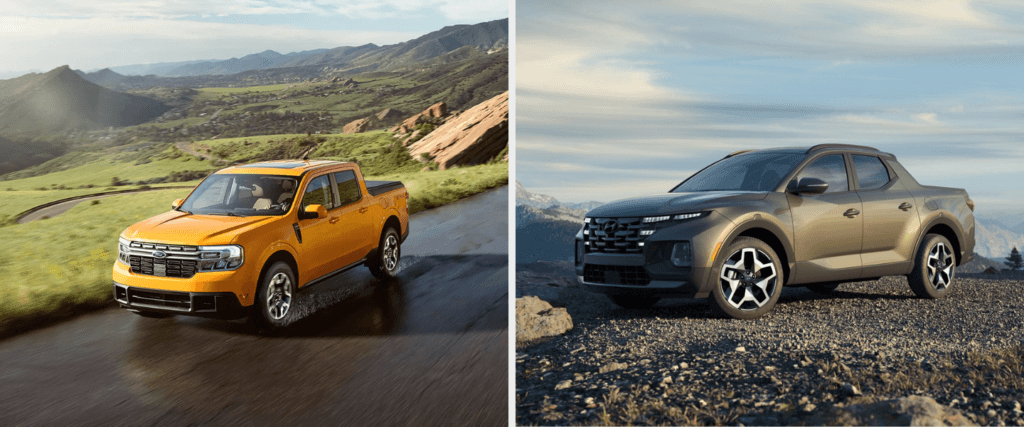 Another contender in the small pickup market is Ford Maverick, and the Santa Cruz leaves this one in the dust.
Better value for the money, more comfortable interiors, higher-end technology, and the latest infotainment system specifications are only some of the outstanding features that give the Santa Cruz an advantage.
But wait, there's more! The Santa Cruz offers a capable engine that delivers 191 horsepower and 181 ft-lb of torque, which translates into a more crisp acceleration and overall handling.
Jeep Gladiator vs. Hyundai Santa Cruz Near McKinney, TX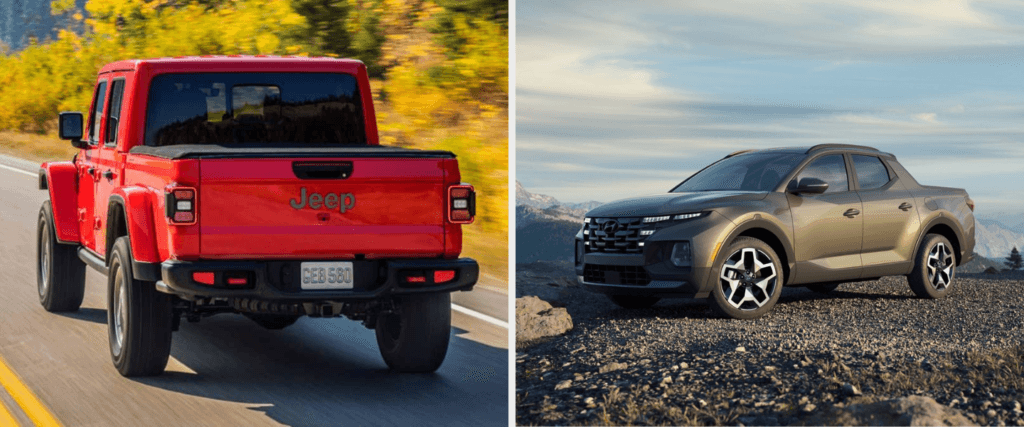 If you're in the market for a small pickup truck that cruises nicely around town with excellent fuel economy, then you should take a serious look at Hyundai Santa Cruz. In fact, in terms of fuel efficiency, the Santa Cruz stands out with its city/highway/combined 22/27/19 mpg vs. Gladiator's 19/22/17.
While the Gladiator is known for being crude and rough, the Santa Cruz offers a head-turner with its smooth body lines, sporty exterior, roomy interior, and comfortable ride. It also comes with a much lower price tag, making it a more affordable choice.
Test Drive the Hyundai Santa Cruz in Sherman, TX
Are you searching for a small pickup truck to enhance your active lifestyle? The Santa Cruz ticks many boxes with its modern interior amenities, comfortable ride, great-in-class fuel economy, and with one of the best warranties in the market.
At Texoma Hyundai, we proudly offer a comprehensive selection of Santa Cruz Sport Adventure Vehicles. If you're in the Sherman or McKinney, TX, or Durant, OK, areas, then be sure to check out our dealership. Browse our current inventory online and book an appointment to visit us today. Our team of professionals is always ready to answer your questions.